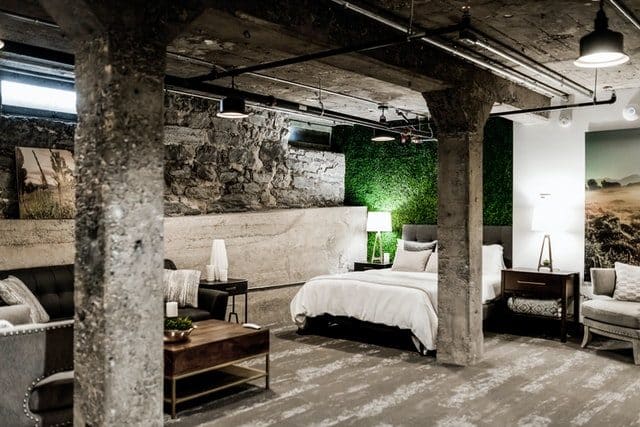 Lower energy bills coming from a reliable and uniform heating system with minimal maintenance spells UFH. Underfloor heating systems have found their place indoors and outdoors, under the roof and below the floor, for several excellent reasons. But most notably, they have made it possible to turn small, underutilized basements into cozy home offices, family rooms, man caves, or (underground) she sheds. Therefore, explore the options, heat your basement with underfloor heating, and reap all these rewards.
Why is UFH an ideal heating solution for basements?
Aside from the above mentioned benefits, UFH also maximizes available space. It doesn't require additional room in your basement for storing bulky heating equipment, nor does it block your walls with radiators. It is moderately easy to install and doesn't produce any noise when it's on. But most importantly, it doesn't stir up dust nor create drafts. This is particularly important for spaces like basements where air quality is a vital consideration.
Also, remember that most basements are used either as utility rooms or unheated storage areas. That makes floor remodeling and especially UHF installation a bit challenging. The solution is to rent storage space nearby, temporarily store away your belongings and decide later what's to keep. Choosing the right type of storage unit is critical when pondering various options on the market. They're supposed to conform to your storage requirements but also your budget.
Keeping your basement warm with underfloor heating
Basements are particular parts of a home. They are often noticeably cooler than the rest of the house as they are in direct contact with typically cold underground. If there's an obstacle to installing more wattage per square foot, there are other ways to heat your basement with underfloor heating and enjoy.
1. Install proper insulation
Although the ground around your basement has insulating properties, it is not enough to prevent heat loss. Installing insulation on your walls and ceiling will maximize underfloor heating effects. Why ceiling? As air above the floor gets warmer, it gets less dense, expands, and rises. That's the basic principle of UFH, allowing for a comfortable feeling of warmth from the ground up. But if you want to keep the room warm for longer, proper insulation is unavoidable.
2. Seal any cracks and openings
When was the last time you renovated your basement? Is it even finished? Partner with professionals, inspect the space and make sure any cracks in the walls are suitably plugged. If there are any windows and additional doors, caulk them and seal them appropriately. Ideally, you will replace your single-glazed basement windows with double or triple-glazed insulated glass to improve your home's energy efficiency and keep your basement uniformly and comfortably warm.
3. Keep the doors and any windows closed
Keep the doors and windows closed when you aren't spending time in your renovated basement space. If you have installed a smart thermostat and zone-controlled heating, even better! You can choose which room is heated and when simply through a smartphone app. Still, avoid energy losses you can easily prevent whenever you can.
UFH and different flooring types
One of the advantages of underfloor heating systems is that they're compatible with most floor finishes. However, keep in mind that some materials are better at transferring heat than others, and your choice will influence the heat output. If you're ever in doubt, ask your chosen UFH contractors for advice and rely on their experience.
1. Concrete floor
New constructions and unfinished basements will significantly benefit from in-slab heating. It implies that the underfloor heating system is installed within a concrete floor. The best part is that you can safely place practically any floor finish over the heated slab and remodel the basement space to meet your practical and aesthetic needs.
2. Stone and ceramic tiles
You might think that stone or tile floors and basements don't go together. But when they're joined by an underfloor heating system, they turn into a durable, warm, and convenient mix. They are easy to heat and clean, making them a perfect floor cover choice for kids' and pets' playroom or hobbies, arts and crafts space.
3. Laminate flooring
Laminate floors, also called click-together floors, come in various types and color varieties. The UFH system is installed over a subfloor, and the laminate boards fit well over it. The underfloor heating system itself is thin enough and doesn't significantly raise the height of the floor. You can heat your basement with underfloor heating even if the ceiling height is restricted.
4. Wooden and hardwood floors
Be careful if you want to keep the uniform floor style and transfer the hardwood floor theme to your basement. Not all wooden floors are compatible with electric radiant heating systems, and some will require a layer of self-leveling concrete (SLC) beneath.
5. Carpets
Wall-to-wall carpets seem like the warmest floor cover option for newly remodeled basements. However, in reality, most carpets come with a warning from the manufacturer against installation directly over UFH systems. Choose the carpet type wisely with assistance from your underfloor heating contractor. If the condition of the basement allows it, opt for the in-slab heating instead, place the favorite carpet above it, and enjoy rolling on it with your pets and kids.
Which type of underfloor heating systems should you choose?
Whether you will choose to install an electric or hydronic underfloor heating system should greatly depend on the state of your basement.
New constructions and basements with deep foundations are the perfect ground to set up a hydronic or water UFH system. Once the liquid floor screed is poured over, self-leveled, and dried in less than two days, you can enjoy a smooth, durable floor and evenly-heated basement.
If you plan to repurpose your basement, choose electric underfloor heating. The feature that makes it ideal for installation in finished basements is its low profile. It doesn't raise the height of the floor by much, which goes hand in hand with ceiling regulations.
The bottom line
To heat your basement with underfloor heating, you need to choose the type of system, compatible floor finish, and apply a couple of simple heat preservation techniques. The rest of it is in experts' hands.